Motorola launches its 4G-ready Razr HD handset in UK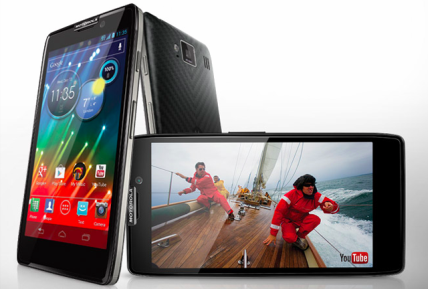 In a Thursday announcement, Motorola Mobility launched its much awaited flagship Android handset, the Razr HD, in the UK; one year after the release of the handset in the US.
The Motorola Razr HD is a 4G LTE-ready handset for UK networks; and it boasts an attractive design, high performance power, excellent speed --- unfolding the best overall Android experience thus far.
The highly impressive specs sheet of the Motorola Razr HD shows that the key features of the handset include a 4.7-inch, Super AMOLED HD 1280 x 720p screen; a 1.5GHz dual-core processor; 1GB RAM; and 16GB of onboard storage capacity, which is expandable up to an additional 32GB via microSD.
Some of the other noteworthy features of the Motorola Razr HD include an 8-megapixel rear camera with LED flash; a 1.3-megapixel front camera; 4G connectivity; and a whopping 2530 mAh battery which can last a full 24-hour usage. Encased in a rugged Kevlar casing which gives the handset a premium feel, the 8.4mm thin Razr HD runs the Android OS 4.1 `Jelly Bean' version.
Touting the superlative features of the Razr HD, Andrew Morley - VP and GM of Motorola Mobility in the UK and Ireland - said: "As our lives get busier, we need a handset that can keep up with the pace and with that in mind, the Motorola RAZR HD was born, a smartphone that's always ready to go, whenever you need it."