Mumbai terror suspect Rana denied bail by US court
Submitted by Supreet Sharma on Wed, 12/16/2009 - 11:22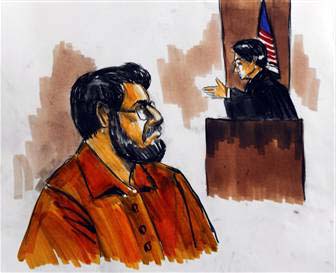 Chicago, Dec 16 - Pakistan-born terror suspect Tahawwur Hussain Rana, accused of complicity in Mumbai terror attacks, has been denied bail by a Chicago court saying he has the means and ability to flee abroad should he be released from custody.
Federal Judge Nan R. Nolan Tuesday cited Rana's net worth of $1.6 million along with his international business contacts, frequent trips abroad and his Canadian citizenship when she declined to set bail.
Rana is a Canadian citizen with "means and knowledge to flee internationally, he has substantial financial resources and international contacts... there are no conditions of release that would reasonably ensure his appearance," she said.
Nolan did not rule on whether Rana posed a threat to society, but said there was sufficient evidence to deny him bail. "The government has met its burden of showing serious risk of flight," she said.
Rana, who has a full, greying beard and glasses and wore an orange jumpsuit to court, sat impassively as Judge Nolan ordered him detained.
Federal Prosecutors Monday alleged Rana, 48, "knew well in advance" about the Nov 26, 2008 Mumbai terror attacks, blamed on Pakistan based Lashkar-e-Taeba (LeT), and offered congratulations to the killers.
Rana has not been formally charged in the Mumbai terror case. But he is accused of helping to plan an attack on the offices of a Dutch newspaper with the help of Pakistani-American terror suspect David Coleman Headley,
the key accused in the Mumbai case.
Prosecutors also revealed Monday that the pair had discussed four other potential targets for attacks in India: Bollywood stars, Somnath temple in Gujarat, the National Defence College in Delhi, and some Shiv Sena party leaders.
Rana's lawyers brought three witnesses to testify to his reputation as a local businessman and his belief in non-violence. The defence team maintained he had simply been "duped" by his co-accused Headley.
"The defence's argument that the evidence will show Mr Rana was duped is not a fair reading of the evidence revealed to date," Nolan said, however.
"It is clear from the conversation and extrinsic corroboration that Rana was told just days before the Mumbai attacks that the attacks were about to happen," prosecutors wrote in a 10-page memo in support of his continued detention.
Educated as a medical doctor, Rana was a schoolmate of Headley at a Pakistani military school in Hasan Abdal. (IANS)
Technology Sector