Nepal Maoists backtrack on challenge to New Delhi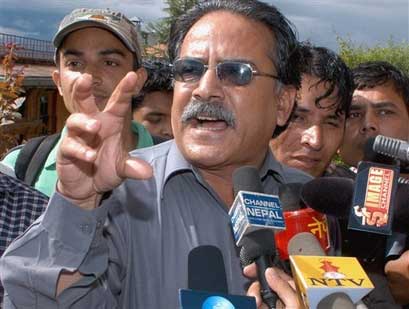 Kathmandu, Dec 23 : Within 24 hours of Nepal's Maoist chief Pushpa Kamal Dahal Prachanda throwing a challenge to the Indian government, the former guerrilla party Wednesday backtracked on the dare, saying it was simply a jibe at the parties.
Prachanda had said he would hold negotiations directly with "master" New Delhi instead of Nepal's ruling parties, who were its "servants".
Narayan Kaji Shrestha, Maoist MP and leader of the former rebels' parliamentary party, said the former prime minister merely intended to taunt Nepal's ruling parties since they were "as unresponsive as wooden puppets".
On Tuesday, winding up a three-day nationwide general strike called by the Maoists, Prachanda repeatedly said at a public rally in the capital that he was ready to go to New Delhi and directly open negotiations with the Indian government since Nepal's ruling parties were "robots" "remote-controlled" by India.
Prachanda had also laid down a five-point agenda for holding negotiations with the Indian government, saying the 1950 Indo-Nepal Peace and Friendship Treaty and all other "unequal" pacts between the two countries would have to be scrapped and all clandestine agreements to be made public.
The former revolutionary also asked for an end to all border problems between the two neighbours and called for the withdrawal of Indian troops from Kalapani, a disputed part of Nepal's territory on the borders of India, Nepal and China.
The Maoists announced they would start a fresh campaign against the current coalition government from Dec 25, which would include exposing the agents of foreign forces.
The month-long campaign, Prachanda had warned, would culminate in an indefinite general strike from January if the government still failed to meet his party's demands.
While the former insurgents are immediately asking for a rollback of the re-appointment of the army chief by President Ram Baran Yadav, which caused the fall of their government in May, their other demand is for the dissolution of the current ruling alliance and the formation of a new government under them.
As part of the new campaign, Shrestha said the Maoists would call off their siege to parliament.
Since May, the former insurgents had kept the house obstructed, allowing it to convene only for a short while to table and pass the budget.
The Maoist MP said the ruling parties were conspiring to prevent the implementation of a new constitution by May so that they could dissolve parliament, impose President's Rule backed by the army, and enforce a constitution of their own.
To prevent that, he said the Maoists would allow the house to sit but would keep up protests from the streets. (IANS)