Nuke arsenal will not fall into Qaeda hands: Musharraf
Paris, Jan 23: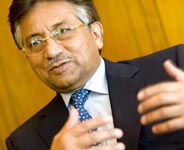 Pakistan President Pervez Musharraf has ruled out the possibility of Pakistan's nuclear assets falling into the hands of Al Qaeda or the Taliban, saying they were protected by a 500,000-strong army.
Addressing the French Institute of International Relations here, Musharraf said extremists formed only three percent of Pakistan's population.
According to the Daily Times, he also rubbished suggestions of Pakistan breaking up. He said the Pakistan Army was one of the most disciplined armies in the world and no junior officer could think of taking over or attempting a coup.
"Pakistan is not a banana republic," he said.
A Shia-Sunni conflict exists, but it could not harm Pakistan's integrity, he said.
Musharraf said Pakistani troops were carrying out operations against terrorists and "not going around trying to locate Osama Bin Laden or Zawahri (Ayman Al-Zawahri)".
That Osama Bin Laden and Ayman Al-Zawahri are at large "doesn't mean much," he said.
"It is more important to battle remnants of Afghanistan's former Taliban militia," he said.
Musharraf also met French President Nicolas Sarkozy who pledged support to Pakistan in its fight against terrorism.
"France will continue to provide its full support in the fight against terrorism, because France and the world have an interest in stability, unity and democracy-building in Pakistan," Elysee spokesman David Martinon was quoted, as saying.
"The only response to terrorism and terrorists is holding elections in the best possible conditions," Sarkozy's spokesman added. (ANI)