Overcast but favourable weather for Olympics' opening ceremony
Beijing, Aug 7 : A spokesman of the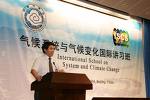 has said that the weather at the Beijing Olympics opening ceremony will mainly be overcast but favourable.
Yu Xinwen said that they are expecting a brief shower on Friday afternoon, but the temperature would be between 25 degrees and 30 degrees Celsius.
One of the highlights of the 16-day Games, the opening ceremony will be broadcast world-wide and will see more than 100,000 athletes, performers and spectators attending the ceremony in the National Stadium, or "Bird''s Nest."
Yu advised that monitoring and updating of weather forecasts should be strengthened to guarantee accurate short-term forecasts, as a complicated weather pattern is expected in the opening week of the Games.
However, Qiao Lin, National Meteorological Center of CMA chief forecaster, said the capital would not have extreme weather in the next week.
He said the weather would be cloudy and overcast on Aug 7, but this won't affect flights in and out of the Beijing Capital International Airport, which would see the arrival of many dignitaries and guests.
But he said that moderate rain was expected during the weekend.
Yu said the Beijing Olympic Meteorological Service Center will be providing three-hour weather forecasts for all Olympic venues 72 hours in advance.
"We will also provide weather forecasts for every hour, 24 hours in advance, for special sports events," Xinhua quoted him, as saying.
He claimed that 4 satellites will take cloud images every 15 minutes, while 186 automated weather stations around the city will gather data every 5 minutes. They have also employed 7 fixed Doppler radar stations and 2 mobile radar stations.
A Beijing Olympics official said that athletes, officials and spectators will have good air quality during the Games thanks to the pollution control measures in the past decade. (ANI)