Pakistan's tribal areas are Al Qaeda haven: CIA
Submitted by Mohit Joshi on Thu, 03/13/2008 - 16:36
Washington, Mar 13: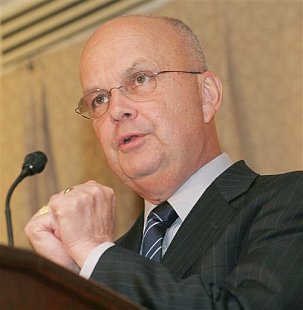 US intelligence agency CIA Director Michael Hayden has said that the tribal regions of Pakistan had become a haven for al Qaeda operatives, and that Qaeda chief Osama bin Laden was hiding somewhere between Pakistan and Afghanistan
He also said that western-appearing terrorists are being trained in Pakistan's tribal areas, which could pose danger to the US.
"The tribal areas of Pakistan have become more of a safe haven for Al Qaeda and there is more of a nexus between Al Qaeda and various Pashtun extremists and separatist groups than we seen in the past. It's a threat to Afghanistan, it's a threat to Pakistan, and frankly, it's a threat to the US," the Daily Times quoted Hayden as saying.
Hayden said that Qaeda regrouped in the past two years inside the Tribal Areas of Pakistan and linked up with Pashtun regional extremists in the Afghanistan-Pakistan border region.
He further said that Laden was now an "iconic" figure hiding somewhere between Pakistan and Afghanistan.
The CIA Director also said that fissures were developing in Qaeda network as Saudi and Egyptian leaders were fighting to succeed Osama bin Laden after his death.
There had been "an awful lot of jockeying" among possible successors of the Al Qaeda founder and chief. He was a Saudi and there were a lot of Egyptians in the leadership, including his No 2 Ayman Al-Zawahiri. If Bin Laden died, his succession by an Egyptian would be a "contentious matter", he said.
Hayden feigned ignorance about whether Laden's deputy would take over the group if the former died.
According to him, CIA operations officers were working aggressively to locate, capture or kill Bin Laden. "US military and government agents were working to create the opportunity to get Bin Laden," he disclosed.
Asked whether Laden was alive, the CIA chief said, "We have no evidence he's not. And frankly, we think there would be evidence. Given the iconic stature, his death would cause a little more than a wake in the harbour. He's putting a lot of his energy into hiding right now."
He added that the chances of getting Zawahri were better since he had been "more active". Several of Al Qaeda's operational leaders have been killed or captured, including Abu Laith al-Libi in late January. (ANI)