Panenka critical of Casquero's imitation penalty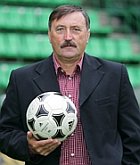 Madrid - Antonin Panenka, the man who won Euro 1976 for Czechoslovakia with an impudent chipped penalty, has criticized the bizarre attempt of Getafe's Francisco Casquero to imitate him.
Casquero absurdly tried to imitate Panenka's penaly, but instead floated a feeble chip straight into the arms of Real Madrid goalkeeper Iker Casillas on Tuesday night during Real's 3-2 victory.
"Yes, I have seen it," Panenka told Thursday's edition of the Spanish sports daily As.
"Various friends have asked me about it. I have told them all the same: I do not recognize myself in that penalty. Casquero should know that not everybody can do that. I had practised my penalty for two years before that 1976 final."
Panenka scored the decisive penalty in the first ever high-profile shootout in the 1976 final against West Germany, with an audacious chip that sailed into the middle of the goal, to the despair of German goalkeeper Sepp Maier.
"In order to shoot like that you cannot have any doubt at all, and Casquero had doubts," Panenka said.
He compared Casquero's feeble effort with that of Zinedine Zidane in the 2006 World Cup final, between France and Italy.
"Zidane scored one like that in the 2006 final. But the Casquero one is, perhaps, is the worst 'Panenka penalty' that I have seen in professional football." (dpa)