PM to launch indigenously built submarine INS Arihant today
Submitted by Neha Malik on Mon, 07/27/2009 - 00:26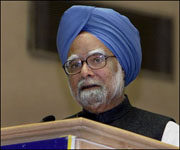 Country's first indigenously built nuclear-powered submarine, INS Arihant is all set to enter the sea today when Prime Minister Dr. Manmohan Singh will launch it from the dry-dock at Visakhapatnam.
Dr. Singh along with his wife Gurusharan Kaur, Defence Ministry colleagues and some defense personnel will arrive at the Eastern Naval Command (ENC) airbase INS Dega and present the submarine to the nation.
The 6000-tonne submarine, developed by the Bhabha Atomic Research Centre (BARC) and the Defence Research and Development Establishment (DRDO), will be known as an advanced technology vessel for secrecy reasons. It will under go sea trials and harbor tests for nuclear system for two years and later commissioned for full service.
A BARC scientist said, "We have done our portion of the work. There were huge challenges in developing this reactor that will fit into a submarine."
US, Russia, China, France and the UK already have such submarine and the country will join the club of these countries through the INS Arihant, developed under the Advanced Technology Vessels Program at a cost of 3,000 crore rupees.
Technology Sector