PMANE demands nationwide debate on govt.'s nuclear power programmes
Submitted by Rajvir Khanna on Tue, 12/11/2012 - 19:48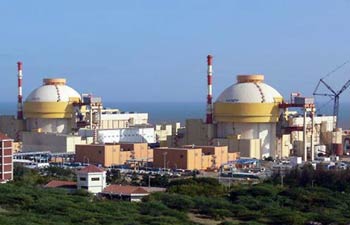 People's Movement Against Nuclear Energy (PMANE) has asked the union government to organize a nationwide debate on its nuclear power programmes, and added it would stop its anti-Kudankulam Nuclear Power Project agitation if people supports the Congress in the next Lok Sabha elections even after the debate.
S. P. Udayakumar, convener of the Anti-KKNPP Struggle Committee, said that the union government was planning to build more nuclear reactors at various locations in various north Indian States without providing mandatory basic information about the projects to local people.
Dr. Udayakumar pointed out that the government couldn't reveal its plan on nuclear waste management before the Supreme Court of India. When the government told the apex court that it would use the Kolar Gold Fields to dump nuclear waste generated from the Indo-Russian plant KKNPP, it faced severe opposition from the people of Karnataka and its government, which forced the government to cancel that plan.
Dr. Udayakumar stressed that the government should provide every Indian citizen with information pertaining to nuclear energy in Hindi, English and all local Indian languages before starting the proposed debate.
Speaking on the topic, he added, "If the citizens choose to support the Congress in the next Lok Sabha polls even after this debate, the PMANE, spearheading the anti-KKNPP agitation, will stop the protest immediately and support the Centre."
Dr. Udayakumar was speaking to reporters on Monday as protestors, including fishermen, positioned themselves in nearly 200 boats 500 metres away from the nuclear plant to lay the 'sea siege'. They waved black flags and shouted slogans demanding scrapping of the KKNPP.