Preparations in place to deal with Cyclone Nilofer: Gujarat CM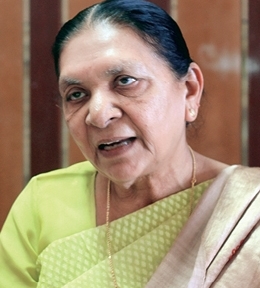 Gandhinagar, Oct 27 : Gujarat Chief Minister Anandiben Patel on Monday assured that preparations are in place to deal with the impending Cyclone Nilofer.
"There have full preparations to deal with Cyclone Nilofer. The first step was to recall all fishermen from the sea. Secondly, the effect of the storm will be most felt in a band of roughly 25-50 kilometres from the coast, so we have ordered the trimming of all trees in that area so that the falling of trees can be minimised. Thirdly, we have alerted all the farmers in the region to remove all their crops in the area and we have told the district collectors to move all the kaccha houses in the area to safer ground," Patel told the media here.
Confirming that the Kutch region will be the most affected by the storm, Patel said she is in touch with the collectors of the areas most at risk due to the storm.
"The Kutch region will be the most severely affected area, with the town of Naliya and its surrounding areas the most at risk. I have talked to the collectors of Porbandar, Kutch and Gir Somnath and have told them to start preparations for the storm," she said.
Earlier today, Gujarat Meteorological Department Director Manorama Mohanty said that the storm is situated around 1180 kilometres southwest of Gujarat and will hit the coast of the state on October 31.
"Under the influence of the cyclone, we are expecting bad weather on October 30 and 31 and heavy rains over Saurashtra and Kutch. The sea will be rough to very rough," she said.
Cyclone Nilofer is the second large cyclonic storm to approach the Indian landmass this month, after Cyclone Hudhud struck the coast of Andhra Pradesh on October 12. (ANI)