President Patil arriving Hyderabad on 15-day southern sojourn
Submitted by Mohit Joshi on Sat, 12/27/2008 - 22:43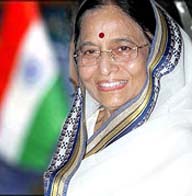 Hyderabad, Dec 27 : President Pratibha Patil is arriving here on her 15-day southern sojourn.
She will stay in the Rastrapathi Nilayam at Bollaram near Secundrabad from where the president''s office functions till her departure to Delhi on January 11.
During her visit, Patil will attend various programmes organised by the State Government and the Ministry of Defence.
She is scheduled to take part in the golden jubilee celebrations of National Institute of Rural Development (NIRD) here on December 30.
Patil will also visit Visakhapatnam, Tamilnadu and Karnataka to participate in various programmes.
This is her second Southern sojourn as President.
The tradition of Presidents staying at the Rashtrapati Nilayam in recent years has been broken, as the `southern sojourn'', which is supposed to be an annual affair, is not happening. (ANI)