PSG sign Blanc for two years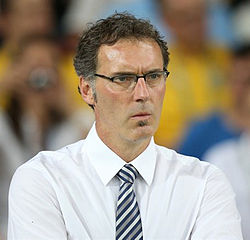 Paris, June 22 : French football league winners Paris Saint-Germain (PSG) have named Laurent Blanc as the new coach to replace Italian Carlo Ancelotti.
Citing sources close to the club, French daily Le Parisien said PSG and former coach of the French national team "have sealed their union" via a two-year agreement, reports Xinhua.
On its website, the daily added the accord will be signed early next week during which the new coach will be scheduled to hold his first press meeting at the Parc des Princes to outline his roadmap to boost the club's performance.
Blanc, 47, started his coaching career in Bordeaux in 2007. During his three-year spell as Bordeaux manager, he was named Ligue 1 Manager of the Year in the 2007-08 season and led the team to claim French league and cup title in the following season.
In 2010, the former French international centre-back managed the national team for two years.
He also earned 97 caps with 16 goals, including the first golden goal in World Cup history he scored against Paraguay in 1998. Blanc was a key member of the team that won the World Cup in 1998 and European Championship in 2000. (IANS)