Rahul 'baba' discusses mature politics over "kesari bhath"!
New Delhi, Jan 23: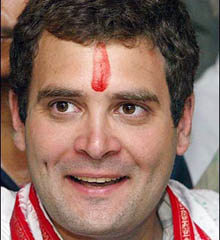 Congress general secretary Rahul Gandhi came, saw and conquered the media, while party stalwarts, including veteran Motilal Vohra, Margaret Alva, MoS at Prime Minister Office Prithviraj Chauhan, and Janardhan Dwivedi, were left on the sidelines at the New Year reception hosted by the Congress Party media in-charge Veerappa Moily.
Rahul Gandhi sat down for an impromptu press conference, receiving a barrage of questions from the media, and did not avoid answering any of them. .
He talked about issues ranging from law and order conditions prevailing in Uttar Pradesh to the problems being faced by the youth in his party. He also dwelt on the future challenges his party would face on the electoral front during the assembly polls in ten states this year and elaborated on his mother being a workaholic
After his encounter with the media, which lasted nearly 20 minutes, Rahul decided to savour Moily's lunch, by saying 'aao kucch khayein" (let's eat something). Keen to savour Karnataka cuisine, he asked for dessert. He had more than one serving, and seemed to like it. He asked his host ".kya hai ye", and pat came the reply from all the sides "kesari bhath".
The media kept on asking him about the health of his mother Sonia Gandhi. Rahul said that both he and his sister Priyanka Vadra Gandhi had been repeatedly asking their mother to take a break from her normal routine, but she has been unyielding. He told the media: "I appeal, please ask her to have a break."
He told the media that the prevailing conditions in Uttar Pradesh were 'bad", and that he had apprised the Congress President about it.
About the youth in his party, he admitted that they often complained about the "distance" the party's leadership maintained from them. He personally wanted more young persons to participate in politics
Rahul Gandhi said that he planned to undertake extensive tours across the country, and would start from one of the southern states.
When asked about his New Year's resolution, he said he doesn't believe in New Year's resolutions, Resolutions have to be made every day. (ANI)