Rahul Gandhi to arrive in Amethi today
Submitted by Mohit Joshi on Sat, 12/01/2007 - 13:11
Amethi, Dec 1: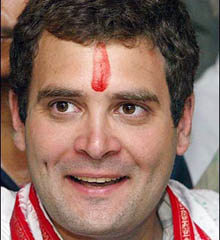 Congress General Secretary Rahul Gandhi will arrive here today on a two-day visit to participate in several programmes.
This will be his first visit after becoming the party's General Secretary.
During his visit, Rahul will inaugurate a ten-day training camp of the party's Nyaya Panchayat members at Jagdishpur.
Besides, he will also attend the concluding function of the Lifeline medical camp and inaugurate a unit of BHEL in Jagdishpur.
Before leaving for Delhi, Rahul will lay the foundation of a gun factory near Hal at Munshiganj on Sunday.
Tight security arrangements have been made in view of his visit, particularly due to the reported threats to his life
All security arrangements have already been monitored by the Special Protection Group (SPG) led by Inspector General, M M Jacob.
Heavy barricades have been put up around the Amethi railway station where Rahul is scheduled to take part in a programme. Apart from this, movement of vehicles have been banned around the site of the public meeting.
Earlier, three Jaish-e-Mohammad (JeM) terrorists, who were arrested in Lucknow, had revealed during interrogation that they were planning to kidnap the young MP. (ANI)
Technology Sector