RJD, DMK support Indo-US nuclear deal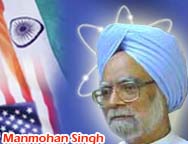 , June 19 : The United Progressive Alliance (UPA) Government received a shot in the arm today when the Rashtriya Janata Dal (RJD) chief Lalu Prasad Yadav and Dravida Munnetra Kazhagam (DMK) chief Karunanidhi voiced support for the Indo-US civil nuclear deal.
The RJD chief said here that the Indo-US deal was in the interest of the nation and necessary for the country's development. And added that it would be unfortunate if the agreement falls through.
As senior Communist Party of India (Marxist) leader Sitaram Yechury met Lalu Prasad Yadav, the Railway Minister said the Government needed to take the allies along as, "we need both (the deal and the Left)".
Prasad said," Government comes and goes. Nuclear power is a requirement and assets must be created for our next generation".
Seeking to allay apprehensions of the Left allies, Prasad said by signing the deal with the US, "we are not becoming a slave of America."
He also contended that the Left has a right to express their views.