Rocket attacks on Israel "war crime", Human Rights Watch says
Submitted by Mohit Joshi on Thu, 08/06/2009 - 20:11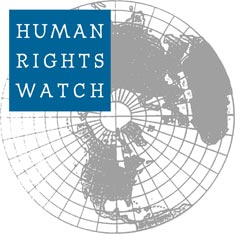 Tel Aviv - Rocket attacks Hamas and other Palestinian militant groups launched from the Gaza Strip at southern Israel are unlawful and constitute as war crime, Human Rights Watch (HRW) said in a report released Thursday.
The 31-page report, "Rockets from Gaza: Harm to Civilians from Palestinian Armed Groups' Rocket Attacks," found that rockets launched by militant groups since November 2008 "unlawfully" struck populated areas up to 40 kilometers inside Israel.
It said the attacks placed roughly 800,000 Israeli civilians at risk, and killed three Israeli civilians and seriously injured dozens of others, damaged property and forced residents to leave their homes.
In addition, the report said, rockets which fell short of their intended targets in Israel killed two girls and wounded others in Gaza during this period. Palestinian armed groups which launched rockets from densely populated areas also unlawfully put Gaza civilians at risk of Israeli counterstrikes.
"Hamas rocket attacks targeting Israeli civilians are unlawful and unjustifiable, and amount to war crimes," HRW programme director Iain Levine said.
"As the governing authority in Gaza, Hamas should publicly renounce rocket attacks on Israeli civilian centers and punish those responsible, including members of its own armed wing," he added.
The report, which HRW said was based on interviews with witnesses to rocket attacks and launches, field investigations of strike sites in Israel and Gaza, and media and other accounts, focused on events after November 4, 2008, when Palestinian armed groups resumed rocket fire, leading to Israel's military offensive against Hamas in the salient in December 2008 and January 2009.
It is the fifth report HRW has published on the Israeli offensive.
The rights group said that while it found no "clear practice" that militants used civilians as human shields, "they frequently violated the separate duty under the laws of war to take all feasible precautions to avoid endangering civilians when they launched rockets from densely populated areas."
"Hamas forces violated the laws of war both by firing rockets deliberately or indiscriminately at Israeli cities and by launching them from populated areas and endangering Gazan civilians," Levine said.
The report further found that the rockets used by the militant groups cannot be aimed reliably and are thus indiscriminate when used against densely populated areas.
"The absence of Israeli military forces in the areas struck by the rockets, as well as statements from the leaders of the Palestinian armed groups, indicate that the armed groups deliberately intended to strike Israeli civilians and civilian structure," the report said.
"Under the laws of war, individuals who willfully authorize or carry out deliberate or indiscriminate attacks against civilians are committing war crimes."
HRW also dismissed the militant groups' argument that the rocket attacks are a reprisal for Israeli attacks and its blockade of the Gaza Strip.
"Violations by one party to a conflict never justify violations by the other," the report said.
Hamas and other militant groups have launched thousands of rockets at southern Israel since 2001. The rocket fire, although not stopped completely, has decreased since the end of Israel's Gaza offensive in January this year. (dpa)