Rupee At One-week Low Vs. US Dollar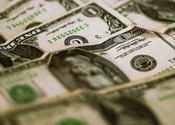 On the back of continued buying by importers and surmised intervention by the Central Bank, the rupee ended further down at more than one-week low of 40.87/88 versus the U.S. currency on Monday.
At the Interbank Foreign Exchange (Forex) market, the local unit opened up faintly inferior at 40.76/78 per dollar as compared to its Friday's close of 40.75/76 a dollar.
It diluted more to close at 40.87/88, a sharp drop of 12 paise over its last end. It moved in a range of 40.76 and 40.8950 a dollar.