Samsung 1.5 TB EcoGreen F2EG HDD Launched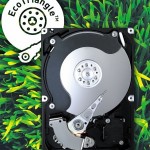 Samsung Electronics has launched its new EcoGreen F2EG hard disk, which comes with a huge capacity of 1.5 TB with 500 GB per disk.
Apt for both external hard disks and desktop PC, the new hard disk drive is a highly energy-efficient and delivers superb performance with various power saving technologies implanted into it.
Andy Higginbotham, director of HDD sales and marketing for the Samsung Semiconductor Storage Division, said, "Lower platter count means less power to start the motor, less power to continuously spin the motor and a lighter head-stack which takes less power to seek."
"With fewer heads and disks, the F2EG hard drive has a lower probability of head-disk failures, enabling customers to build more reliable systems," Andy added.
The drive employs Samsung's very own EcoTriangle technology, which guarantees low-power consumption, low-heat and low-noise operation.
Moreover, the disk claims to use 40% less power in idle mode and 45% less while reading/writing as compared to other drives of similar capacity.
The hard drive is compliant with European Unions's RoHS (Restriction of the Use of Certain Hazardous Substances in Electrical and Electronic Equipment Regulations) and many other environmental regulations.
The PMR technology equips the disk with superior aerial density and better transfer performance.
Other highlights of the F2EG are 500GB/1TB/1.5TB capacity, 16MB/32MB buffer memory, and 3.0 gigabytes per second (Gbps) Serial Advanced Technology Attachment (SATA) interface.
The 1.5 TB Samsung EcoGreen F2EG HDD, which is also available in the capacities of 500 GB and 1 TB, is priced at $149.