Sea lions attract thousands to San Francisco wharf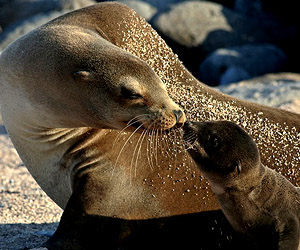 San Francisco  - Their loud barking can be heard from a good distance away. Follow the sound and the smell of old fish remains and you will find them: A huge group of sea lions at the boat docks near Pier 39, a favourite attraction and gathering place along San Francisco's Fisherman's Wharf.
A regular invasion of the marine mammals attracts thousands of tourists daily to the inner harbour of the US west coast city. But this year instead of the usual couple of hundred sea lions basking in the sun to the delight of the spectators, more than 1,500 animals have come to wallow fin to fin along the shaky wooden docks.
"We actually put up six more floats to make more space for them. It had gotten way to tight," said Sheila Chandor, harbour manager of Pier 39.
The businesses along the pier are happy about the free attraction, but Chandor admits the vociferous and convivial pack is an exceptional event that no-one can quite explain.
"Maybe they also think of San Francisco as such a nice place," joked Bernd Kampede, a tourist from Germany, as he and his daughter and hundreds of other tourists marvelled at the show taking place just a few metres away. "I knew that there were sea lions here, but I didn't expect such a massive number," said the 62-year-old. The invasion of the animals is also a bit puzzling to marine biologists.
"We really don't know why there are so many on Pier 39," said Jim Oswald of the Marine Mammal Centre, a clinic for marine mammals in Sausalito. Perhaps the hungry animals were following a school of fish or perhaps their appearance has to do with an unknown environmental factor.
In any case it is comfortable for them. The floating docks rise and fall with the tide and the sunbathers can bask for hours. This is something the sea lions discovered when they first came 20 years ago. They arrived then by the dozens. Over time their number swelled into the hundreds.
People turn out to witness an amusing scene that even Hollywood couldn't stage. The males, weighing up to 400 kilograms and their smaller, but not exactly delicate female companions, entertain by belching, vomiting, fighting loudly for the best spot, shoving their fellow sea lions brutally into the water and blithely rolling over each other.
"This is my third time here watching them," said Georgina Barry of England. "I feel a bit sorry for the people nearby, the smell really gets to you after a while," she added, wrinkling her nose.
It is a fact that while the sea lions are an entertaining attraction for some, it is a plague to others. More and more swimmers in San Francisco Bay complain about aggressive animals coming after them. They not only compete with fishermen for fish, they also steal fish out of the fishermen's nets. They crush the docks with their massive bodies and ram holes into boats. Fishermen at Pier 39 try to keep the intrusive visitors away using nets, but drastic measures are not allowed. California sea lions are a protected species. It is illegal to violently drive them away.
The operators of Pier 39 have hired a guard whose job is to keep the sea lions in check. He patrols the remaining boat docks that the marine mammals have not yet seized en masse. With help from a water hose they can be quickly driven away.
"Believe it or not, but they don't like to get wet with a water hose," said Chandor. They are sprayed with a stream of water and "without harassing them too much, they just roll over in the water." (dpa)