Sikh group objects to Shinde's statement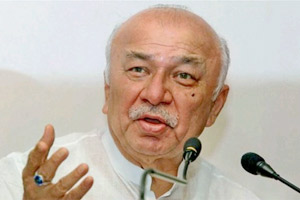 Chandigarh, June 7 : Sikh group Dal Khalsa Friday slammed union Home Minister Sushilkumar Shinde for saying that Sikh militants based in Pakistan were under pressure from Pakistan's Inter-Services Intelligence (ISI) to revive terrorism in Punjab.
Taking exception to Shinde's statement, Dal Khalsa president H. S. Dhami said it was just "customary rhetoric" aimed at portraying Sikhs in bad light.
He said the home minister's views were "baseless, unfounded and ridiculous" and meant to mislead the public.
Shinde had made the statement during his address at the chief ministers' conference on internal security held in New Delhi on Wednesday.
The Dal Khalsa also criticized Punjab Deputy Chief Minister and Shiromani Akali Dal president Sukhbir Singh Badal for remaining a "mute spectator" when Shinde made the remarks.
"Why Sukhbir did not register his dissent and objection there and then," Dhami asked.(IANS)