Small revival of Surat diamond industry brings smile back to workers
Submitted by Dharmesh on Mon, 04/27/2009 - 21:19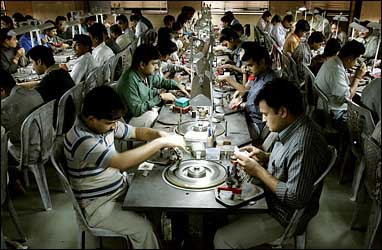 Surat, Apr 27: After a lull, diamond market in Surat was abuzz with activity following slight spurt in demand for high quality diamond.
Reportedly, over a hundred thousands of workers had lost their jobs following the recent recessionary trends.
With the current revival in a portion of the industry, recruitment of highly skilled workers has commenced.
"At the moment, there is requirement in the market for a grade workers who are skilled and who are good in cutting and polishing diamonds. We hire workers on A B C and D grade. Had there been overall demand, then we would have hired workers of all categories, but because there is only demand for high category diamond, so there is only demand for highly skilled workers," said Dinesh Nawadia. general secretary, Surat Diamond Association.
Workers who were out of work for long took a sigh of relief.
"Past five years, when I was at home without work, I was praying to God. I was not sure how to sustain my household. Now that I got ny job back, I am happy" said Naresh Patel, a diamond worker.
The Surat diamond industry is worth 800,000 million rupees and accounts for more than half of the total diamond exports from India.
It employs more than 700,000 workers from across the country.
Over 2.5 million people are indirectly associated with the trade.
The traders say that the diamonds processed in Surat are sent to various parts of the world including the Middle East from where manufactured jewellery is then sold across the globe.
The United States, one of the largest markets for diamonds and other gemstones, would import 60 per cent of diamonds manufactured in Surat. But these imports have come down by half due to deep economic crisis that America is currently reeling under. (ANI)
Technology Sector