'Snow in desert' halts star-studded golf championship in US!
Submitted by Sukhdeep Grewal on Thu, 02/21/2013 - 19:21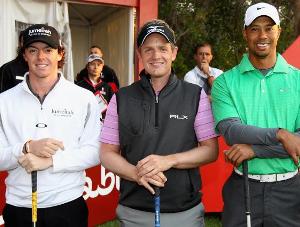 London, Feb 21 : A snowstorm had led to play being suspended on the opening day of a golf championship in the desert state of Arizona, leaving the participating golf stars shocked.
Golfing champions Rory McIlroy, Tiger Woods and Luke Donald had not even teed off when the claxon sounded signaling the suspension of the opening match of the Accenture Match Play Championship, as a blizzard turned the putting greens into white before their amazed eyes, the Mirror reports.
Still not believing his eyes, Mcllroy said that although it had snowed in Arizona a couple of years ago, it was nothing like this snowstorm, which he added, left three to four inches of snow on the putting green. (ANI)