Sonia Gandhi supports Manmohan Singh on Nuclear Deal
Submitted by Neha Malik on Mon, 09/03/2007 - 02:28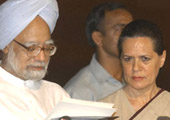 New Delhi: Even as the Left parties have wanted to put the administration in the dock on the N-deal, Congress President Sonia Gandhi prided Prime Minister Manmohan Singh and his panel of competent negotiators for hammering a contract, which fulfills all the conditions represented before Parliament.
"India and the US have signed a historic 123 agreement that lifts the decades-old embargo against nuclear trade with India. This will allow India to expand its energy sector to meet the growing demands of our economic growth and put an end to the power shortages that we are all familiar with," Mrs. Gandhi said.
In a "Letter to Congress Workers", Sonia stated, "We congratulate Prime Minister Manmohan Singh and his team of able negotiators who have hammered a treaty that satisfies all the conditions laid out before Parliament and brought home an agreement that is in the long term in the interest of India."
Prior to the discussion in Parliament, Sonia also narrated party members in the note that all through the discussions with the United States, Parliament, UPA associates, Left parties and the Opposition parties have been kept informed.
"We have negotiated with America keeping our national interests in the forefront and India's nuclear defence programme has been in no way undermined," she stated in the letter in the recent issue of party journal `Congress Sandesh'.
Noting that the contract will assist the nation develop power generation for its agricultural segment and the developing industrial area, Sonia Gandhi said the agreement is an identification of the accomplishments of India's researchers who have worked carefully to keep the indigenous nuclear programme active.
In a noticeable dig at the BJP-led NDA over normal Lok Sabha and Rajya Sabha disruptions, Sonia expressed trust that the opposition will make use of Parliament to air their differences.
"We will see less unnecessary House adjournments that waste precious time and the tax-payer's money," she added.
Technology Sector