Stock Mkt Is Unsafe Below 2,776 Level, Says Vishwas Agarwal
Submitted by Shalini Kakkad on Tue, 01/13/2009 - 13:17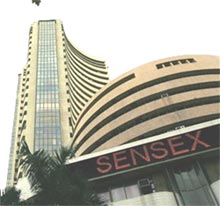 After trading sluggishly for the whole day, the 30-share index BSE Sensex closed the day (January 12) with a huge loss of 296.42 points at 9110.05.
In contrast, the broad-based Nifty closed at 2773.10, down 99.90 points, after touching an intra-day low of 2748.55.
Following worldwide cues, Sensex opened the day on a weak note and remained weak all-through the session as investors remained wary of catching stocks prior to declaration of quarterly results. They even ignored the cheering industrial output data and chose to press sales across the board.
Metal, real estate, IT, power, capital goods, banking, PSU and oil stocks were hammered badly on the back of continued selling pressure, while FMCG, pharmaceutical and auto stocks got some support but they also closed the day on a highly subdued note. Telecom and cement stocks too had a weak outing. Some stocks from the infrastructure space closed higher owing to selective buying action.
Following the Satyam disaster, SEBI has decided to set up a board to assess all records maintained by auditors on the companies' quarterly results, which are a major part of the Sensex as well as Nifty. The evaluation will be taken up after the third quarter (Q3) outcomes and the audited results for the year ended March 2008.
Besides large caps, various midcap and smallcap stocks also posted sharp losses on yesterday.
The major gainers' list included Sun Pharmaceuticals, Jaiprakash Associates and GAIL India.
The major losers list comprised Wipro, Reliance Infrastructure, Tata Steel ICICI Bank, Ranbaxy Laboratories, DLF, BHEL, State Bank of India, Sterlite Industries, Hindalco, Reliance Industries, Tata Consultancy Services, NTPC, RCom, L&T, Infosys Technologies, Tata Power, ITC, ONGC, Bharti Airtel, HDFC, Mahindra & Mahindra, Maruti Suzuki, Tata Motors, ACC, Reliance Capital, SAIL, Siemens, Unitech, Suzlon Energy, Ambuja Cements, BPCL, Zee Entertainment, Reliance Power, Idea Cellular, Power Grid Corporation, Hero Honda, ABB, Punjab National Bank and Reliance Petroleum.
While commenting on the market, stock market analyst, Vishwas Agarwal stated that below the 2,776 level, the stock market is insecure at the same time, RIL Rs 1,100, SBI Rs 1,175- below this market is not advisable for any sort of trading.
"I advise to stay away from the market until some major good news comes in. I feel the same pattern will prevail in the market until January 20-22," he said.
"On January 20, Obama will take over as the President of United States and on January 22, RBI will announce its credit policy. Only these two events are expected to lift the market. Before that a minor pullback from upside is possible as a result of sharp fall and no major buying support," Mr. Agarwal added.
Technology Sector