Stock Mkts May Recover After Tuesday, Says Vishwas Agarwal
Submitted by Shalini Kakkad on Mon, 12/29/2008 - 14:56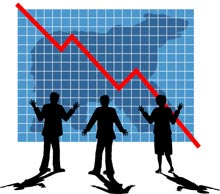 Indian equities belled the day (Monday, Dec 29) on a weak note because of negative global cues.
Select FMCG, pharma, metal and oil stocks went up, while realty stocks slipped on selling pressure.
There were huge losses for a variety of stocks from auto, capital goods, information technology, power and banking sectors as well.
BSE Midcap and BSE Smallcap stocks remain quite subdued this morning.
At 10:26 a.m., the BSE Sensex, which opened with a small negative gap at 9318.86, stood at 9204.97, down 123.95 points.
Meantime, the broad based Nifty lost 30.20 points at 2827.05.
The major gainers from the Sensex pack included Satyam Computer Services, Sterlite Industries, Ranbaxy Laboratories, Grasim Industries, Hindalco, ITC, Reliance Infrastructure, Reliance Industries, Reliance Petroleum, and Cairn India.
The major losers from the Sensex were Tata Motors, Mahindra & Mahindra, DLF, Jaiprakash Associates, Maruti Suzuki, BHEL, Larsen & Toubro, State Bank of India, Wipro, Infosys Technologies, ICICI Bank, ACC Bharti Airtel, ONGC, NTPC, HDFC, Hindustan Unilever and HDFC Bank, Unitech, Tata Communications, Punjab National Bank and Siemens.
While commenting on the market, stock market analyst, Vishwas Agarwal said that from Monday or Tuesday onwards, the stock market will start recovering for second and last round of current upmove.
"As this market will make next stop before January 14 and from there onwards, corporate results will start, which are expected to be weak," he said.
Mr. Vishwas also said that investors as well as traders have only around 10 working days to make profit and get out from feeble stock.
He added that 2,876 is the basic support, and 2,976 is crucial to cross for a strong upmove. Overall view of the stock market is trade with stoploss only with no major big object for any upside in Nifty or any stock.   
Technology Sector