Taj Mahal Is One Of The New Seven Wonders Of The World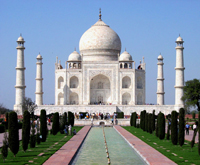 The monument of love – Taj Mahal has become one of the new Seven Wonders of the World. On Saturday night, the symbol of pristine beauty, Taj Mahal was revealed voted in a global poll as one of the new Seven Wonders of the World. That means, The Taj Mahal has been regarded as one of the most beautiful monuments of the world.
According to the Officials of the I Media Corp, the Indian representative of 'New7wonders of the World, the Swiss organization which organized the worldwide campaign sent them the information about the Mughal marvel getting into the list. The new Seven Wonders of the World will be officially declared in Lisbon.
However, the I Media Corp officials reported that they haven't yet got the information about the number of votes cast in favor of Taj. The information regarding the number of voted polled in favor of Taj and the other selected monuments will be available only after the official declaration.
The New 7 Wonders Foundation, a Swiss non-profit group conducted a worldwide poll, in which people could vote for their favorite monument either on-line or through SMS.