Tata Steel remembers founder J N Tata on his 170th birth anniversary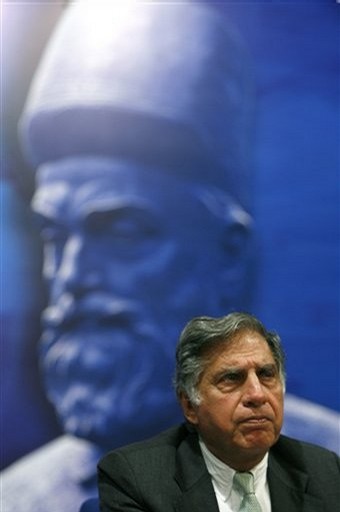 Jamshedpur, Mar 3 : The employees and senior management of the world''s sixth largest steel company Tata Steel gathered today to celebrate the 170th birth anniversary of its founder - Jamsetji Nusserwanji Tata with fervour and gaiety.
The celebrations commenced on March 2 and lasted till March 3 in Jamshedpur.
On this special occasion, the local Jubilee park was illuminated with lights on Monday night, the theme being ''electricity''.
As part of the commemoration, a replica of the Taj Hotel, as it looked during the last November attack by Pakistan terrorists, was also made to remind everyone that in spite of a major attack, the Taj Mahal hotel continues to remain a symbol of national integrity.
The 75 x 45 feet replica was built with 1,50,000 electric lights and won everyone''s appreciation present on the occasion.
"After seeing the replica of Taj Hotel, I feel that if the model is so beautiful then how beautiful the actual building would be. Those attackers should not have attacked this beautiful building," said Deepalika Bannerji, one spectator.
Several dignitaries and guests of the company arrived to pay homage on this occasion to Jamsetji, regarded as a key figure in industrial revolution.
Besides, there was an array of colourful display of floats by various departments and divisions of Tata Steel.
In addition to this, a Weight lifting Centre was inaugurated at JRD Complex a Boxing Centre was inaugurated at Keenan Stadium, a Football Training Centre at Gopal Maidan by Philippe Varin, Chief Executive Officer of Corus.
Jamshedji Tata, in 1907, founded Tata Iron and Steel Company, the first Asian integrated steel plant.
Commonly referred to as ''Tatanagar'' or ''Steel City'' in recognition of the company''s significant presence in the eastern region of the country.
Today, the Tata group has expanded its services to automotives, commodities, energy, hotels, retail, financial services, broadcast and software and telecoms.
Tata Steel has also won "Award for Corporate Social Responsibility in Public health" by US- Indian Business Council (USIBC), Population Services International (PSI) and the center for Strategic and International Studies (CSIS) in 2007.
Moreover, Tata Steel is also the first integrated steel company in the world, outside Japan, to have been awarded the Deming Application Prize 2008 for excellence in Total Quality Management.
Jamshetji Nusserwanji Tata was born on March 3, 1839 in Navsari, Gujarat and died on May 19, 1904. (ANI)