Telecom Min seeks Rs 6,997 cr fund for projects this fiscal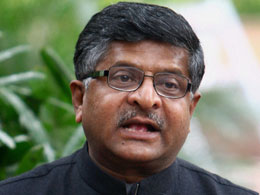 New Delhi: The Telecom Ministry has sought additional funds of Rs 6,997 crore in the budget for various projects that are to be rolled out during the current financial year.
Telecom Minister Ravi Shankar Prasad is learnt to have approached Finance Minister Arun Jaitley for additional funds to carry out schemes committed under Universal Services Obligation fund scheme.
This included the national optical fibre network (NOFN) which aims to connect 50,000 village panchayat at the end of current fiscal and total of 2.5 lakh panchayats by 2016-17.
According to sources, Prasad has written to Jaitley saying "to carry out USOF schemes, we have received only Rs 3,538 crore and we need additional fund of Rs 6,997 crore."
Government collects USO Fund by levying cess on revenue earned by telecom operators from services which is used for funding telecom projects in rural areas.
The estimates for various projects during current financial year include Rs 8,500 crore for work on NOFN, Rs 587.78 crore for mobile service in nine naxal hit states, Rs 1,250 crore for a rural telephony scheme and Rs 77.62 crore for augmentation of certain optical fibre network between block and district headquarter.
The long pending project of mobile services in naxal affected states is yet to be approved by Cabinet for which state-run firm BSNL has submitted revised estimate of Rs 3,241 crore compared to Rs 3,046 crore approved earlier. ---- PTI