Tito gets a street named after him - in Slovenia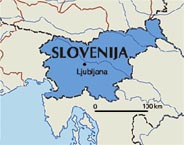 Ljubljana - The Slovenian capital Ljubljana has named a street after former Yugoslav communist leader Marshall Tito, it was reported Tuesday - sparking protests from nationalists.
The maverick dictator, popular within the former Yugoslavia at the time for steering an independent line from Moscow under communism, remains a controversial figure.
An ethnic Croatian, Josip Broz Tito (1892-1980) led the Communist Partisans to victory over occupying Axis forces and domestic rivals in Second World War and was eventually declared lifelong president of Yugoslavia.
The subsequent collapse of Yugoslavia and the ensuing conflicts in the 1990s have led to a retrospective yearning from Tito by some so- called "Yugo-nostalgics".
The former Stajerska street, named after a province in Austria, now bears Tito's name.
Under communism, Tito led a huge personality cult, with a Tito or Marshall Tito street or square in virtually every city, and even the Montenegrin capital Podgorica which became Titograd.
Tito was mourned across former Yugoslavia when he died in May 1980, but ridiculed and denounced a decade later as a surge of nationalism in its six republics replaced the motto of "brotherhood and unity."
A member of the European Union and NATO since 2004, Slovenia was the first to split away from Yugoslavia, but many among the 2 million Slovenians are Yugo-nostalgics - even though some of them were born after the country fell apart. (dpa)