Top Trends at IFA in Berlin: Hybrid tablets, 4K TVs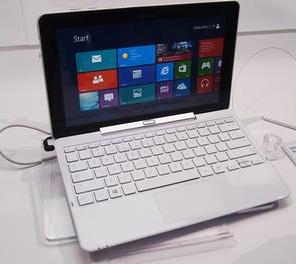 The 2012 IFA consumer electronics show in Berlin this year witnessed several vendors unveiling as well as demonstrating a wide array of devices; with the top trends at the show being hybrid tablets and ultra-high resolution 4K TVs.
Ruling the roost all over the place at the IFA 2012 were hybrid or convertible Windows 8-based tablets which can also serve as laptops. Apparently, the horde of hybrid tablets at display was an indication that PC vendors are presently of the opinion that tablets require a keyboard which facilitates the users in using the device as a laptop.
It is essentially the detachable keyboard which transforms a convertible the tablet into a laptop; and which can be folded away if the users want to use the tablet alone.
The hybrid tablets unveiled at the IFA 2012 included the Microsoft Surface tablet; the Samsung ATIV Smart PC; the Asus Vivo tab; and the HP Envy X2.
Other than the hybrid tablets, another key attraction of the trade show was the so-called ultra-definition 4K TV sets, which were displayed by a number of bigwig vendors, like Sony and LG Electronics.
The 4K TVs boast a significantly higher resolution - a notable 3840 by 2160 pixels - as compared to the 1920 by 1080 pixel resolution of the currently-available standard TV sets. To put it differently, the screen resolution of the 4K TV sets is nearly two times that of standard TV, vertically as well as horizontally.