Toshiba designs four-legged robot to inspect tsunami-devastated Fukushima nuclear plant
Submitted by Mitra Pathak on Thu, 11/22/2012 - 17:52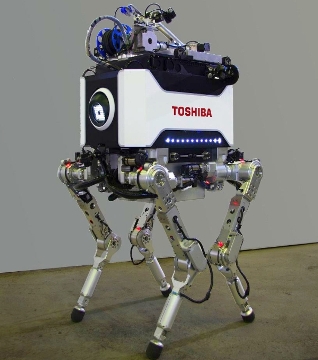 With the March-last-year earthquake and tsunami having wrecked havoc to the Fukushima nuclear power plant, Toshiba has designed a new robot pair - a four-legged robot dubbed the "Quadruped walking robot" - to inspect the plant.
The inspection-robot designed by Toshiba weighs 143 pounds; and is nearly 3 feet, 5 inches tall. The robot can not only walk around to patrol the Fukushima nuclear plant, but can also effectively sidestep obstacles and climb stairs; thereby boasting the ability to access even those areas which are generally inaccessible by rolling robots.
Though Toshiba claims that the "Quadruped walking robot" will be capable of withstanding high radiation to work in nuclear disasters, the company has revealed that the development of the robot is currently in its early stages.
Nevertheless, with Toshiba having done a noteworthy job even in the initial stages of the robot's development, the "Quadruped walking robot" was displayed by the company at a Wednesday press event. It was revealed that the future development work on the robot will chiefly involve the addition of more battery life; waterproofing and other such features; and extra hardening for holding up against radiation and temperature.
Revealing that Toshiba began developing that "Quadruped walking robot" with the hope that it would prove useful in helping to decommission the Fukushima nuclear plant, more so because the tsunami-hit highly radiated chamber has still not become accessible by humans, Toshiba Senior Manager Goro Yanase said: "We need this (robot) to go in and first check what is there."