TVS suffers 8.33% decline in December sales
Submitted by Devang Murthy on Wed, 01/02/2013 - 19:42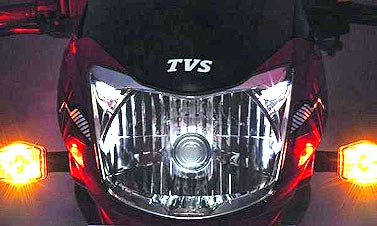 Chennai, India-based TVS Motor Co suffered a decline of more than 8 per cent in sales of its two-wheelers.
TVS Motor Co said its combined sales in the two and three-wheeler segments slipped to 1,56,221 units in December 2012, from 1,70,428 units in the corresponding month of the previous year.
In the two-wheeler segment alone, the manufacturer saw its sales coming down from 1,67,905 units to 1,51,735 units over the same period of time; while domestic sales of the company's two-wheelers declined from 1,46,747 units to 1,34,566 units.
In terms of scooter sales, the company registered decline from 44,804 units to 30,398 units.
However, amid cut-throat competition from rival manufacturers like Yamaha and Honda, the company registered an increase of 6 per cent in sales, from 56,662 units in December 2011 to 60,210 units in December 2012.
But, two-wheeler exports declined from 21,158 units to 17,169 units.
Sales of the company's three-wheelers enjoyed a strong growth of 77.8 per cent, from 2,523 units in December 2011 to 4,486 units in December 2012.
Rival manufacturer Hero MotoCorp enjoyed a marginal increase in sales, from 540,276 units in December 2011 to 5,41,615 units in December last year.