Two Swiss men arrested for operating cybersex den in Philippines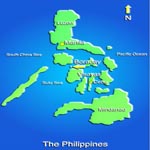 Manila - Two Swiss men were arrested in a southern Philippine city for allegedly operating a cybersex den, a police report said Saturday. The two suspects were arrested Friday during a raid in a three-story house in Kauswagan village in the outskirts of Cagayan de Oro City, 835 kilometres south of Manila.
Seventeen young women, allegedly involved in the cybersex ring were also taken into custody by the raiding team. At least six of the women were caught performing sex acts before a camera attached to a computer which was connected to the internet.
Investigators were set to file criminal cases against the two Swiss nationals for violating the country's anti-human trafficking law. (dpa)