Tyson Gay sends a warning to Usain Bolt with 100m world lead
Submitted by Sahil Nagpal on Sat, 07/11/2009 - 04:51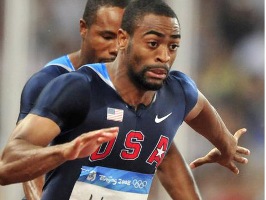 Rome  - Tyson Gay sent a stern warning to Usain Bolt when the American equalled his personal best 9.77 seconds for a 100 metres triumph at the Golden League stop in Rome on Friday.
The three-time 2007 world champion Gay moved ahead of former world record holder Asafa Powell of Jamaica early on and crossed the line with the fastest time of the year.
Powell clocked a season-best 9.88 seconds and compatriot Yohan Blake was third in 9.96 seconds.
Bolt, who got a golden world record treble at the Beijing Olympics, had led the 2009 list with 9.86 seconds until Friday. The Jamaican star Bolt was not competing at the Golden Gala in Rome.
The showdown between Gay and Bolt will take place at the August 15-23 world championships in Berlin. Gay is also ahead of Bolt in the 200m list, 19.58 seconds to Bolt's
19.59.
Jamaica got its revenge in the women's dash when Kerron Stewart clocked a world-leading 10.75 seconds from compatriot Olympic champion Shelly-Ann Fraser (10.91).
Stewart's victory kept in the race for the Golden League jackpot of 1 million dollars at the halfway mark of the six-meet series in which the athlete(s) get the prize who win their event in Berlin, Oslo, Rome, Paris, Zurich and Brussels.
Russian pole vaulter Yelena Isinbayeva and Ethiopian distance runner Kenenisa Bekele are also in the jackpot race while Finnish javelin thrower Tero Pitkamaki and American 100m hurdler Damu Cherry are no longer in the frame.
Isinbayeva was still jumping after clearing a 2009 world best 4.85m and Bekele (a world record holder, world and Olympic champion as well) got the best 5,000m time of the year in 12:56.23 minutes.
Pitkamaki's jackpot hopes ended when two-time Olympic champion Andreas Thorkildsen of Norway came up with a massive final throw of 87.46m to beat the Finnish world champion who had 83.68m.
Olympic champion Dawn Harper of the US won the women's 100m hurdles in 12.55 seconds. In the men's 110m event, Cuban world record holder and Olympic champ Dayron Robles stretched his unbeaten 2009 run to five races with first place in 13.16 seconds.
World champion Maryam Yusuf Jamal of Bahrain dominated the women's 1,500m in a 2009 world leading 3:56.55 minutes. In the men's 400m, Chris Brown of the Bahamas edged Ireland's David Gillick by one hundredth of a second with a winning time of 44.81 seconds. (dpa)