UPA's retrospective taxation made it clear we would win, says Jaitley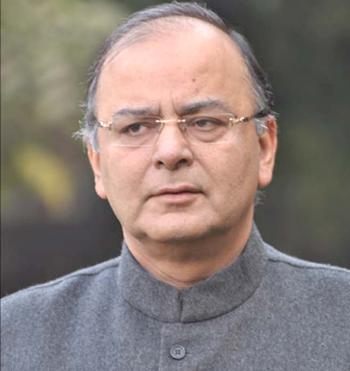 New Delhi, Nov 8 : Union Finance Minister Arun Jaitley has claimed that the introduction of the retrospective taxation bill by the previous United Progressive Alliance (UPA) regime in Parliament, had made it clear that the Bharatiya Janata Party (BJP) would win the 2014 Lok Sabha elections.
"The real potential of the Indian economy in 2012 was much higher, but we had financially fallen off the globe. Retrospective taxation was presented in Parliament. That is unheard of. Scams were not helping India's image. For example, the power sector is still suffering due to the coal blocks allocation scam. What message does this send investors? Domestic and international confidence in India was low," Jaitley said while attending the launch of journalist Rajdeep Sardesai's book '2014: The Election That Changed India' along with former Finance Minister P Chidambaram on Friday.
"When it was becoming clear that we [the BJP] might win, I thought Chidambaram would clear up the mess. The UPA kept on making a mess with policy decisions and the retrospective taxation bill was a defining point where it became clear that we will win," he added.
Jaitley, to a question posed by Chidambaram, also stated that the BJP is clear which policies it needs to pass in the next couple of years.
"There are a large number of reforms that need to be implemented. Some have to be passed immediately, while some need the consensus of the people. Having said that, investors internationally are enthusiastic about India's potential. As far as the reform agenda is concerned, we have an idea of what we will do over the next two years," he said.
Jaitley also claimed that one big reason why the BJP won the Lok Sabha elections was because of the charisma of its Prime Ministerial candidate, Narendra Modi.
"For years, Indian elections used to work on a state-by-state basis. We had Tamil Nadu and Kerala voting in opposite directions and Gujarat and Maharashtra also voting in opposite directions. Since 1991, the trend changed and elections were won or lost on social and caste factors. Charisma never was a factor, and here I am talking of both the BJP and the Congress. However, Narendra Modi changed that," he said.
"Being decisive and being a leader who is respected is not a sin. This country was fed up with a Prime Minister who couldn't take decisions," he added.
On being asked by senior journalist Karan Thapar why Sardesai called the Modi of 2002 'utterly incompetent', Jaitley said that despite repeated attempts by various vested interests to malign the name of Narendra Modi, the Prime Minister's slate was still clean.
"When the 2002 Godhra riots took place, Narendra Modi was new to governance. He only became the Chief Minister of the state in October 2001, after being a party organizer for years. Having said that, reports of his having a role in the riots is not true," he said.
"A comment by a journalist in a book cannot override repeated enquiries by courts, including the Supreme Court, and by an unfriendly government which was at the Centre at the time of the said enquiries," he added. By Kartikeya Ramanathan (ANI)