US, Japan, India decide to enhance cooperation to tackle piracy, increase maritime security
Submitted by Neha Malik on Tue, 10/30/2012 - 23:30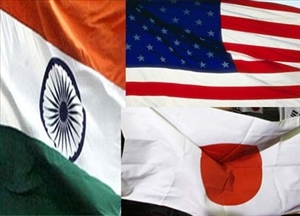 The third round of trilateral dialogue among diplomats from the United States, Japan and India took place in New Delhi on Monday.
Robert Blake - US Assistant Secretary of State for South & Central Asia; Kenji Hiramatsu - Japan's Deputy Vice Minister of Foreign Affairs; and Gautam Bambawale - India's Joint Secretary in charge of East Asia for the External Affairs participated in the dialogue, and decided to augment cooperation to fight back piracy and to increase maritime security.
Incidents of piracy off the Gulf of Aden and Somalia have increased drastically over the past few years.
Some analysts also believe that diplomats from the three countries had gathered as part of their common strategic intention to contend with increasingly assertive China.
Reports said that the diplomats didn't discuss China explicitly, but their focus on maritime security showed that the three countries are not ready to take China's assertiveness in the South China Sea and interference in the Indian Ocean lightly. China's aggressive military modernization and the intensifying activities of its army over recent years have made the three countries to take more precautionary measures against Beijing.
The dialogue took place in wake of escalated tensions between China and Japan over the Diaoyu Islands. Experts believe that Japan is exerting pressure on China from the east, and has been using India to pressurize China from the west.