U.S.-BASIC group reach a non-legal binding deal at Copenhagen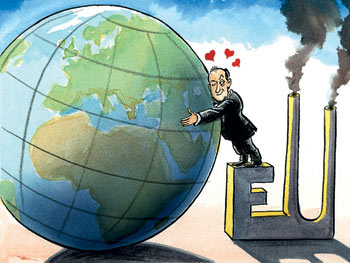 Copenhagen, Dec. 19 : United States reached a non-legal binding climate deal with the group of Brazil, South Africa, India, and China (BASIC) here on Saturday.
The accord includes a recognition to limit temperature rises to less than 2C and promises to deliver 30bn dollars of aid for developing nations over the next three years. It outlines a goal of providing 100bn dollars a year by 2020 to help poor countries cope with the impacts of climate change, a B. B. C. report stated.
The agreement includes a method for verifying industrialised nations'' reduction of emissions, the report added.
"We have agreed on a non-legal binding deal," Obama was quoted as saying by a NDTV after reaching the deal with BASIC countries.
Reacting over the climate deal with the U. S., Indian Environment Minister Jairam Ramesh said: "We have got a good deal in the form of U. S.-BASIC agreement."
Meanwhile, U. N. Climate Summit has agreed to "take note of" Copenhagen accord.
Moreover, the European Union at Copenhagen has said, current carbon emissions won't reach 50 per cent by 2050.
"We have agreed to monitor all nations' carbon emissions," EU stated at Copenhagen. (ANI)