Venezuela holds vast crude reservoirs: USGC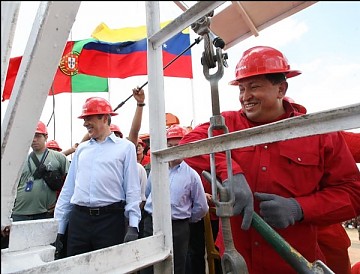 The U. S. Geological Survey, in its recent report, has informed that Venezuela's Orinoco Oil Belt could have one of the World's largest crude deposits. The USGC estimates 513 billion barrels of recoverable heavy crude in the fields which are more than double than those held by Saudi Arabia.
USGS geologist Chris Schenk, who played a leading role in preparing the assessment, said that prevailing technologies used today for recovering crude could fail for extracting such a huge amount of oil from the fields.
Mr. Schenk added in an interview, "We are saying they are technically recoverable but not necessarily economically recoverable today. Some of the recoveries that they have reported from pilot projects are pretty high."
It has already been pointed out from figures of Petroleos de Venezuela SA (PDVSA) that the Orinoco River basin potentially holds 1.3 trillion barrels of extra-heavy crude oil in the Orinoco River basin in eastern Venezuela.
The recent USGS's projections of having huge crude reservoirs can attract a large number of companies from across the world. Currently, U. S. based Chevron Corp., France's Total, Britain's BP PLC and state companies from China, Russia and Iran are operating in Venezuela.