VHP leader Togadia slams government for not hanging Afzal Guru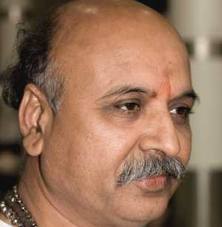 Surat, Oct 10 : Vishwa Hindu Parishad (VHP) leader Praveen Togadia has criticized the government for delaying the hanging of 2001 Parliament attack accused to grab minority Muslims votes.
Togadia said: "The government is maintaining silence on this issue just to grab Muslim votes."
He urged the people to start a movement against militancy and political leaders who provide protection to anti- national elements.
"Now, people should start a movement against militancy which should also target political leaders who save these militants. This movement should not end until India becomes a Hindu nation," he added.
Togadia further said that militants like Afzal Guru should be hanged for committing heinous crimes against mankind.
"What kind of love they (government) can have for Afzal Guru. We can have love for good people and not for anti-national elements. They should be hanged till death," added Togadia.
Afzal Guru was sentenced death by a court in 2002 after being convicted on charges of conspiracy to attack the Parliament, waging war against the country and murder.
The Delhi High Court upheld the death sentence in 2003 and his appeal for pardoned release was further rejected by the Supreme Court in 2005.
Following this, Afzal Guru filed a mercy petition with the President, who forwarded it to the Home Ministry for its comments.
A group of gun-and grenade-wielding militants had stormed the Parliament premises in December 2001, but were stopped by security personnel.
The attack led to the death of a dozen people, including six policemen, a civilian and five militants of the Lashkar-e-Toiba (LeT). (ANI)