Vladimir Putin's 'girlfriend' gives birth to his first son
Submitted by Karan Jakhad on Wed, 12/16/2009 - 19:42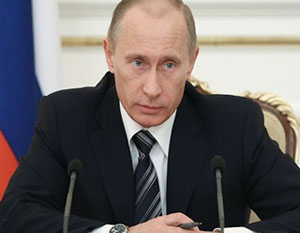 New York, Dec 16 : Vladimir Putin's alleged girlfriend Alina Kabaeva has given birth to a baby boy, whom sources claim to be the Russian Prime Minister's first son.
Kabaeva, the gorgeous, 26-year-old rhythmic gymnastics champion, recently gave birth to a boy in Moscow and named the baby Dimitry.
Kabaeva has been identified as Putin''s girlfriend ever since she retired from competition in 2006 after winning two Olympic medals and 18 World Championship medals to become the most decorated gymnast in history.
In fact, two years ago, she was elected to the Duma, the Russian parliament, as a candidate of Putin''s political party.
Last year, it was said that Putin, 57, divorced his wife, Ludmila— the mother of his two daughters— to marry Alina.
The 5-foot-4 Kabaeva -- who is half-Muslim through her Tatar father -- was born in Tashkent, the capital of Uzbekistan, when it was still part of the Soviet Union.
"She has confided to friends that she wants more children soon and she loves being a new mother," the New York Post quoted a source as saying.
ReadRussia. com said: "The most puzzling part of this story is that at press time, not a single major Russian media [outlet] has reported that Kabaeva had a son."
But one analyst revealed: "Putin is very careful about his public image. Still, considering Russia''s Muslim population is about 30 million, it might not hurt him politically to have a beautiful, half- Muslim wife." (ANI)