Vonn wins super-g to stay on World Cup title course
Submitted by Mohit Joshi on Sun, 03/01/2009 - 20:20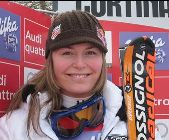 Bansko, Bulgaria  - Lindsey Vonn of the United States moved closer to winning the overall alpine ski women's World Cup title with a third successive super-g victory Sunday.
The 24-year-old title-holder clocked 1 minute 14.49 seconds at the Bulgarian resort of Bansko, 0.58 seconds ahead of Fabienne Suter of Switzerland and 0.91 seconds up on Tina Maze of Slovenia.
Suter moves ahead in the super-g standings with one race remaining, 15 points ahead of Vonn, while previous leader Nadia Fanchina of Italy slipped to third after finishing seventh.
Vonn's win took her career tally to 20 and was her seventh of the season. She had won the two previous super-g races, in Tarvisio, Italy and Garmisch-Partenkirchen, Germany and on Saturday clinched the crystal globe as downhill winner.
Suter meanwhile continued her recent fine form with her fourth podium finish in as many races. dpa
Technology Sector