When 'gay' Boy George was rejected to be part of Hare Krishna movement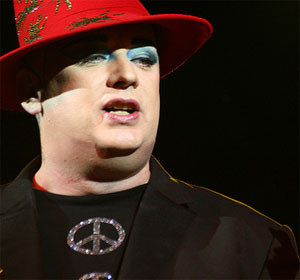 London, July 27 : Troubled pop star Boy George was left feeling "upset" after his plea to become a fully-fledged member of the Hare Krishna movement was declined because of his sexuality, revealed a friend.
The singer, who has battled depression and drug addiction and recently served time in prison, was hurt after friends urged him to marry.
The 48-year-old Culture Club front man was publicly a Hare Krishna follower in the late Eighties.
However, Marianne Elliott-Said, a fellow pop artist who was initiated as a Hare Krishna, has revealed that George's homosexuality prevented him being fully accepted.
Elliott-Said, 52, better known as Poly Styrene of punk band X-Ray Spex, lived as a Hare Krishna in Hertfordshire and London from 1983 to 1988.
"I remember when Boy George came with Gavin Rossdale from Bush and Marilyn to visit me at Bhaktivedanta Manor," the Daily Express quoted him as saying.
However, the Krishna authorities asked him to change his lifestyle if he were to sign up.
"George never became a practising Hare Krishna," said Marianne.
"He was interested but they told him he couldn't also be a practising homosexual. The International Society for Krishna Consciousness accepts gay people but they have to practise celibacy or get married to a woman and have Krishna- following children.
"I did see George afterwards and he was pretty upset and said it was because of people like me that one of his devotee friends thought that they needed to get married," he added. (ANI)