Bangers and mash is Brits' most popular comfort food amid recession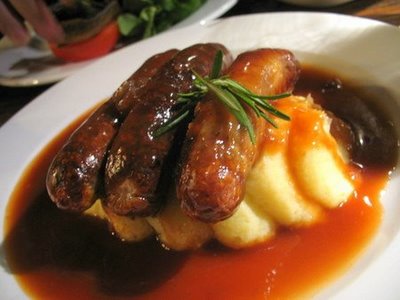 London, June 22 : Bangers and mash is Britons' most popular food for comfort eating as they battle the ongoing recession, according to a new survey.
According to the survey commissioned by TV channel Good Food, the traditional dish emerged as the frontrunner with 16 per cent of the votes in its favour as compared to last year.
More than 3,000 British adults voted fish and chips to the second spot, with 15 per cent votes, followed by beans on toast, with 10 per cent.
The survey also found that British people were gaining more weight as they upped their food intake because of the economic slump.
"It''s heartening to know that even if people can''t afford to go out they are still having fun with good food and the friends they''ve invited round," the Telegraph quoted Richard Kingsbury, head of the Good Food channel, as saying.
"Food programmes have played a part in giving people the confidence and creativity to have a go at cooking for friends whether it be bangers and mash or Thai green curry," he added.
Celebrity chef Brian Turner also said: "At a time when we are getting less for more when we buy food, comfort deserts such as chocolate cake, fruit crumble and custard and treacle sponge with custard are helping to put a smile back on our faces. It''s feel-good food for Britain at its best."
Most popular comfort food
Bangers and mash (16 per cent)
Fish and chips (15 per cent)
Baked beans on toast (10 per cent)
Chocolate cake (8 per cent) (ANI)