Florida couple gets 155,000-dollar cloned dog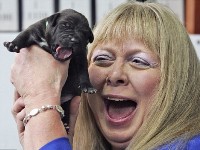 San Francisco/Miami  - A couple in Florida has received the first cloned puppy in the US after paying a San Francisco company working with South Korean scientists
155,000 dollars to perform the complicated feat of bio-engineering.
Nina and Edgar Otto picked up their cloned yellow labrador puppy on Monday, according to a press release from BioArts International. The puppy, Lancelot Encore, was cloned from the DNA of the Ottos' late dog Lancelot, who died of cancer in January 2008.
The couple were one of six winners of an international dog-cloning auction last year. They paid 155,000 dollars to have scientists at the Sooam Biotech Research Foundation in South Korea create the cloned puppy from DNA samples taken from the donor dog by the Ottos five years ago.
"We can't believe this day is finally here," said Nina Otto, "We are so happy to have little Lancey in our family. His predecessor was a very special dog. We are thrilled beyond words!"
Lancelot Encore, who was born on November 18 last year, is believed to be the first cloned puppy in the US. The other five auction winners are slated to get their puppies in the coming six months.
The couple appeared with the lively puppy on NBC television Wednesday morning. Nina Otto said she had financed the project by selling her jewelry. dpa