India and Russia have finalised the Russian PAKFA aircraft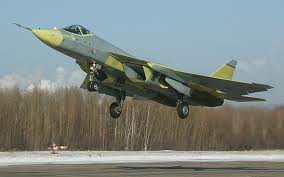 A Sukhoi-T50 fighter aircraft, the Russian PAKFA aircraft has been finalized by India and Russia as the base design model for their $6 billion Fifth Generation Fighter Aircraft (FGFA) programme.
This deal does not indicate that India's prospects of joining American F-35 fifth generation fighter programme come to an end. India has to select 126 Medium weight Multi Role Combat Aircraft (MMRCAs) with a budget of $10 billion.
This is the costliest deal of Indian defense system till date and Americans who have come to Aero India 2011 were little confused with Boeing's F/A 18 Super Hornet and Lockheed Martin's F-16 IN Super Viper and is considering which one of the two will seal the deal. Air Chief PV Naik is expecting to close the deal by September this year.
MiG-35 was being kicked out of the Aero India 2011 just a week ahead of the commencement of the event on February 9.
Despite of MIG pulled out of the show, Russian delegations visiting Aero India 2011 in Bangalore have confirmed that the MMRCA selection committee members as well as defence experts had witnessed series of demonstrations by MiG-35.