At least 6 flights diverted to Taiwan due to Typhoon Neoguri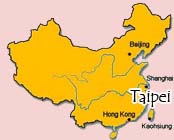 Taipei - At least six flights were diverted to Taiwan from Hong Kong and Macau on Saturday due to Typhoon Neoguri, according to a radio report.
The six international flights - five to Hong Kong and one to Macau - were forced to land at the Kaohsiung International Airport in south Taiwan as Neoguri lashed China's Guangdong Province, Broadcasting Corp of China reported.
The airlines affected were Taiwan's China Airlines, EVA Air, Hong Kong's Dragonair and Air France, BCC said.
The passengers were resting in the passengers' terminal at the Kaohsiung airport, waiting to continue their journey once the typhoon had subsided, the report said.
Neoguri has also disrupted dozens of Taiwan-Hong Kong flights, forcing the flights to be cancelled or delayed, BCC said.
Taiwan's Central Weather Bureau said Neoguri is expected to land on China's Hainan Island between Saturday night and Sunday morning. The bureau advised Hong Kong-bound passengers to check with airlines before going to the airport to catch the flight to Hong Kong. (dpa)