Plastic surgeons are all smiles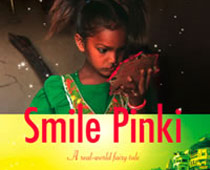 Strange are the ways of a film's influence. After Smile Pinki won the Oscar for the Best Documentary (short subject), medical experts are hoping that it will spread awareness about cleft lip and cleft palate.
The condition leaves children with anxiety, low self-esteem and depression. Megan Mylan's 39-minute Smile Pinki tells the story of eight-year-old Pinki's journey from being a social outcast in her village to her acceptance by society.
Around 30,000 children are born with cleft lips and palates annually in India, but only 50% seek treatment. Smile Pinki, is a documentary shot in Uttar Pradesh. It has been produced by Smile Train, an international NGO, which works free with city-based Poona Hospital and Research Centre (PHRC) and other centres across the country, to treat people with facial deformities.
PHRC has so far treated over 4,000 people with cleft lips and palates.
Plastic surgeon Dr Shrirang Pandit has been performing the surgeries at PHRC along with others under the joint programme. "Cleft lip and cleft palate are normally associated with dejection and humiliation. With the documentary now creating cinematic history, we hope that it will help spread awareness," he said.
Dr Pandit said that the film will also dispel many misconceptions related to congenital clefts and be a ray of hope for people who have lost faith in science.
According to Dr Tejinder Bhatti, associate professor (plastic surgery) at Armed Forces Medical College (AFMC), who is also a governing council member of the Association of Plastic Surgeons of India, the documentary has already been screened in most branches of Smile Train in India. "It will definitely create awareness," he said. At the Command Hospital, Pune, at least 18 to 20 cleft lip surgeries are done free for civilians every month. Bhatti said there are around 4.7 million children in developing countries, who are still with an uncorrected cleft.
"Each of these children can be saved with a simple surgery that takes just 45 minutes," he said.
He said the incidence of cleft lip in India occurs once in every 600 live births. "This increased incidence is due to poor nutrition. Other genetic and environmental factors also play a role," he said, further explaining that alcohol and smoking by mothers during pregnancy is also believed to be a cause.
Dr Pandit said a major reason for children with clefts is the lack of folic acid during pregnancy to the mother. "We suggest early treatment of a cleft lip and palate," he said. This would help children with clefts are often teased and humiliated.
Such children also suffer from speech deficiency which can be corrected after surgery, he said.
Nozia Sayyed/ DNA-Daily News & Analysis Source: 3D Syndication