Pune man wears 22-carat gold shirt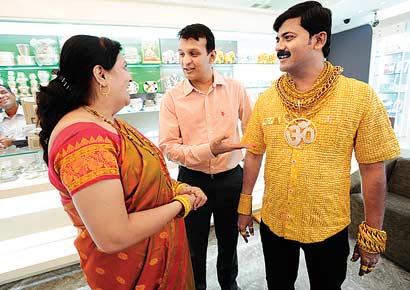 A man in the western Indian city of Pune was seen wearing a shirt made of 22-carat pure gold priced at an amazing Rs. 1.27crore.
The shirt is weighs 3.5 kg includes a belt of 325 grams and the man normally wears gold ornaments weighing 7 kg in his daily life. The shirt attaches 14,000 gold spangles with the help of 1 lakh rings. The spangles are interwoven on a white velvet cloth and the shirt also features a total of six Swavorski crystals as buttons.
The shirt was designed by Pune's own Ranka Jewellers, who had to appoint 15 skilled artisans for the shiny shirt. The workers worked for 18 hours every day over two weeks to complete the shirt for the person, who aims to wear it at major public events.
Phuge said that he got the shirt prepared because he wanted to attract everyone's attention. His wife said that he will wear it at major public functions and at places where he wants to make a statement. Both Phuge andRanka Jewellers believe that the shirt will help them get an entry into the Guinness or Limca Book of records.