Three Afghan police killed in roadside attack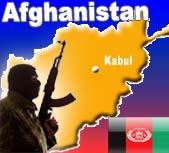 Kabul- Three police officers were killed and four others injured Thursday in a roadside bomb blast in the eastern province of Paktia, officials said.
A remote-controlled bomb exploded and destroyed the their pick-up truck while the police were on patrol in Syed Karam district, Agha Gul Ahmadzai, the district's chief, said.
The wounded, two of them in critical condition, were evacuated to the civil hospital in the provincial capital Gardez city, he added.
Taliban spokesman Zabihullah Mujahid claimed responsibility for the attack, saying at least six policemen were killed.
Taliban insurgents have stepped up attacks in recent months in southern and eastern Afghanistan. (dpa)