CEAT tyres to set up radial plant at Halol, Gujarat
Submitted by Keshav Seth on Tue, 01/27/2009 - 04:57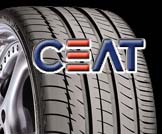 RPG Enterprises owned CEAT tyres laid the foundation stone of a radial tyre plant worth Rs 700 crore at Halol, near Baroda in Gujarat. The company has signed a Memorandum of Understanding in this regard at the Vibrant Gujarat Global Investors Summit (VGGIS) in Ahmedabad on January 13.
The chairman of RPG Enterprises Group, Harsha Goenka said that the first phase of plant would be operational by May 2010. The state of Gujarat is also celebrating its foundation day on the same day.
The plant would produce a number of employment opportunities in the state. About 1000 people are expected to get employment after completion of first phase of tyre plant. It would produce radials of truck, bus, light truck and passenger cars that would be sold in national and international market. Mr. Goenka said, "With Gujarat emerging as the next auto corridor of India, Ceat is confident this plant will give us the added mileage for increasing our market share."
The plant is being set up across 125 acres of land and it would produce 4 million tyres in its first phase. The company would release funds worth Rs 500 crore in the first phase and Rs 200 crore for the second phase in 2011-2012.
It should be recalled that state government, administered by Narindera Modi, has given various tax concessions to the company. Halol has been declared as 'no octroi zone' that would help to reduce cost of production leading to cheap tyers for customers.